Possible Reasons Why Your Garage Door Is Not Closing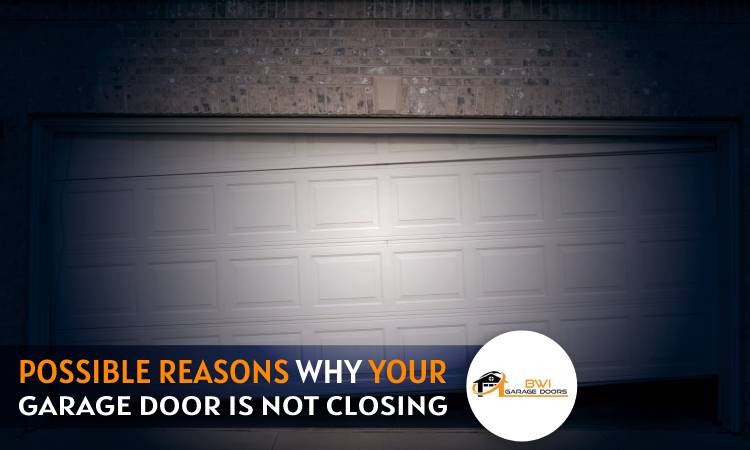 There're several reasons why your garage door may not close. Believe it or not, such a situation may include the small insect nest settled in the photo-eye sensor, the door thrown out of the track by the ball, or complex mechanical issue.
Being a leading service provider for garage door installation in College Park MD, we usually come across these below listed problems:
Defective safety sensors
The first thing you must inspect is a pair of sensors positioned at the bottom of the overhead door, about 15 centimeters above the ground. The duty of these safety devices is transmitting a signal to prevent the door from closing when something is in its way.
If they stop getting power, these sensors won't get to release the signal sufficiently. Resultant, your overhead door will fail to close. It's also feasible that these photo-eyes transmit a persistent signal to the overhead door that an obstacle is in the way. It happens when sensors are out of alignment.
Filthy sensors
Photo eyes are pretty small, and you can notice them positioned on both sides of the door. Gradually, these small devices get dirty. In that scenario, the signal between the 2 photo eyes is disrupted, and your door cannot close correctly.
Dead transmitter battery
To function properly, the transmitters of your garage door require a sufficient level of power from batteries. So, as soon as the batteries becomes dead, the transmitter will stop transmitting a signal to the door. The first thing to do here is examine if the transmitter can still open & close the door. If yes, then you have to replace the battery.
Misaligned tracks
You can encounter big problem when the garage door tracks are not aligned properly. The door cannot run over the metal track if they're not accurately parallel. So, as soon as you detect bent rails or gaps between the rail and rollers, you must look for professional Garage Door Repair in College Park MD.
Damage to the tracks
The most common reason of damaged track is the heavyweight door. If your tracks are damaged, bent, blocked or warped, the condition of the track will worsen and become dangerous. It's sometimes feasible to fix them, but you'll perhaps have to install new garage door tracks. So, you must contact a professional to replace the old tracks when they lose regular shape.
Get your garage door repair and Garage Door Installation in College Park MD done by the professionals at BWI Garage Doors. Contact us on +1 888 388 1487!
---
---