Artificial Golf Green Installation for Your Home By American Greens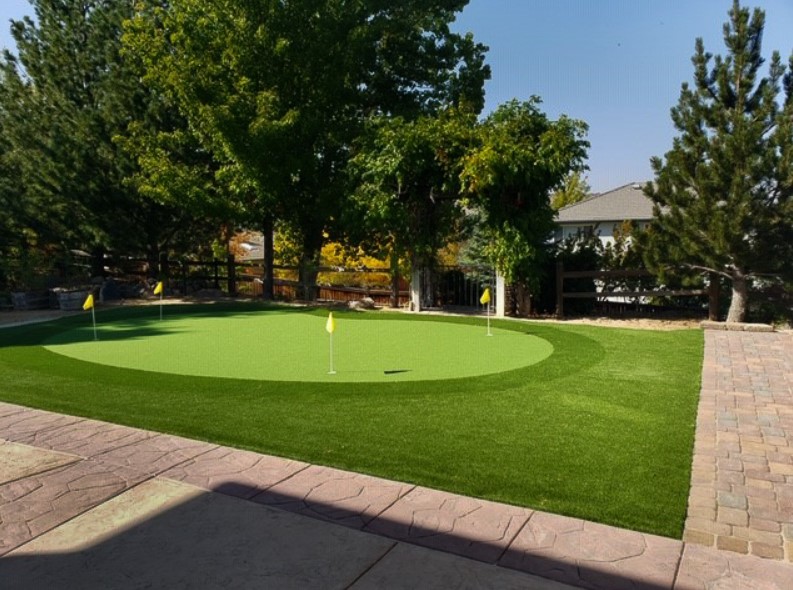 If you are an enthusiastic golf lover, you know the importance of your short game skills. At American Greens, we offer both indoor and outdoor putting greens as options for your very own artificial golf green installation to practice right at home. Once your putting green is professionally installed by American Greens you will quickly realize the benefits of having your very own artificial putting green turf installed in your home, office, or backyard. We've made not only possible to enhance your game and skill set in the comfort of your home or business.
It takes practice, technique, and patience to become a great golfer. However, there's another essential part of golf to consider – where you practice. Many opt to play at private golf clubs, many at a community course, and many still find that an artificial green install on their property is exactly what they need to improve their game. Every golfer should consider installing artificial golf green to practice their short game and boost their curb appeal in the process. These greens provide family entertainment like none other! The whole family will be able to enjoy the beautiful look and performance for years.
Artificial putting greens at American greens are known to provide the assimilation of the look and feel of real golf greens. Best of all, the putting greens are top dressed, which allows for a spin and natural ball reaction that mirrors a natural turf green. We efficiently handle every aspect of artificial turf installation with the key installation steps including:
Material ordering and delivery
Equipment and machinery requirement
Sod removal
Base laying and compacting
Turf cutting and laying
Cup cutting and concreting
Infill spreading
Surface rolling
Clean up and finishing touches
Our greens can also be installed indoor. Our indoor artificial golf green installation at your residence will give you years of entertainment and the ability to improve your game without stepping outside your home. It can be appealing to golfers in colder climates where the weather prohibits playing outdoor. An artificial putting green is a great addition to your property whether it is a residential or commercial community. American Greens is the industry leader in artificial putting greens, and we will recommend you the best quality that best matches your home.
Purchasing an indoor or outdoor artificial putting green is the best way to stay on top of the game year-round. Golfers nationwide have also discovered the flexibility of American Greens indoor and outdoor putting turf is versatile for their needs and the seasonality many experience.
Contact American Greens today for further information on our artificial golf green installation. You can give us a call at (877) 408-3636 or write to us at [email protected]
Source from – https://artificialputtinggreenkits.wordpress.com/blog/
---
---