Top Six Things to Do on a New York Trip
Visiting New York is one of the wishes on everyone's wish list. Why? The obvious reason for such a wish is the city's glamour and charm. Did you know New York is the cultural, financial and fashion hub of the United States? Hence exploring this city once in a lifetime is a must! So if you too are fascinated by the charm of the city and planning for a trip to NY after the Covid19 pandemic scene subsides, then take a look at some of the best things that you can do in the city below:
Go to the crown of Freedom Tower 
Freedom Tower is the fourth tallest skyscraper in the world that has been recently inaugurated. It is also known as One World Observatory and is located at One World Trade Center. You can capture the New York skyline from its top like never before. Get that perfect family picture or click selfies with the Chrysler Buildings and the Empire State in the background.
Visit the Statue of Liberty on a Ferry
When in New York your trip will be incomplete without a visit to the Statue of Liberty. It is one of the top-rated tourist attractions in New York. The visit becomes even more exciting when you take a ferry to Ellis Island and take delight in watching the Statue from a distance or climb up. However, for that, you will need to book at least a month in advance!
Enjoy Night Hours at Times Square
Times Square has everything one can look for be it entertainment, food or shopping and everything in between. From the gigantic billboards to Broadway theaters, the impressive play of lights to dining and shopping venues open till wee hours, Times Square will make you fall in love with it again and again. It is the liveliest place in NYC located at the intersection of Broadway and Seventh Avenue.
Central Park Horse and Carriage Rides
Missing out on Central Park horse and carriage rides while on a New York City trip is a great loss of experience and fun. You might be thinking why this old-fashioned mode of transportation is so popular and highlighted! The truth is enjoying Manhattan by carriage offers an exceptional opportunity while offering you a break from the hustle and bustle of the city. You will experience something ecstatic when you go for Central Park horse and carriage rides, which is unexplained.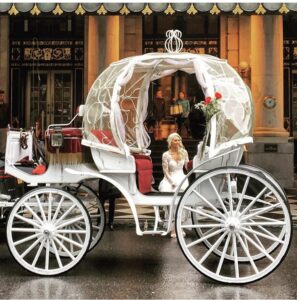 Culture Exploration at Rockefeller Center
If you are interested in exploring the culture of New York, then the best way out is a visit to the Rockefeller Center where you can take in 360-degree city views from the observation deck at Top of the Rock and admire the stunning sculptures and seasonal plants at the Channel Gardens. You can also delve deeper into the history by taking up a guided tour of Rockefeller Center.
Walking the Brooklyn Bridge
If you wish to learn more about the lifestyle of locals here, then walking the Brooklyn Bridge is a must on your itinerary. There are dedicated walkways for pedestrians and bikers, hence, you can stroll and sightsee simultaneously. It is a 1.3-mile walk that offers numerous exciting opportunities to click around that include the New York skyline, the East River, the Statue of Liberty and the outstanding Manhattan Bridge.
There is much more to do in New York! But these six are a must for every tourist to explore.
Conclusion:
Central Park Carriages offers the best Central Park horse and carriage rides whether you are sightseeing, celebrating a special occasion, or treating your family to a fun activity in NYC. To know more visit https://www.centralparkcarriages.com/
---
---