Expert assistance to procure & install the cantilever racking in your warehousing project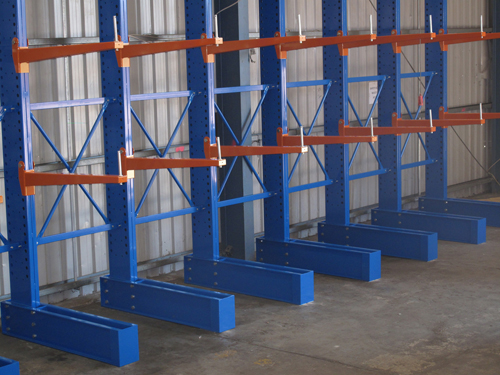 Before starting a warehouse or storage unit project, you must first institute which style of rack best suits your storage needs and the products you deal with. Most businesses use pallet racking, but it is not always the right solution. Do you wish to store piping, tubing, carpeting, timber, or similar items in your store? It isn't easy to move and store all such things on the pallet! The role of cantilever racking is the best solution to keep the store items well organized.
Cantilever racking in Melbourne allows the stock easily stored on pallets. It allows for longer and heavier items to be stored horizontally across multiple arms on a single side or both sides. Warehouses or storage units use cantilever uprights that support cantilever arms. It allows keeping the lengthy things easily. Cantilever racks can add traditional pallets to store the items. You can customize a cantilever racking system as per your specific storage need. It good for both conventional pallets and oversized items. It means you can customize the cantilever racking based on the storage needs and space available in your warehouse.
The base, uprights, arms, and supports are the primary components on which the cantilever rack works. The base of cantilever racking for sale in Melbourne is heavy and often made of high-grade steel. It will give strong support from the bottom of the rack to counterbalance the weight of the stocks. The columns are extremely strong & support the arms. The arms in it act as the shelves that extend from the steel uprights, which will give the racks extra strength.
Do you store larger, bulkier products that don't fit on the standard pallets? Adding cantilever racks can be the way as it gives you the flexibility to keep and move all your goods. The cantilever racks are known for their easy to install, reconfigure, and easy to rearrange features which you will not found in pallet racks. You will surely realize the significant benefits of cantilever racking when you find it to fulfil your storage needs at their best level. It will offer new options, excellent storage space and allow efficient usage of your existing storage space. But it is not a wise investment if you use cantilever racks for storing small products.
The arms of a cantilever racking are vital. The uprights or steel columns in it seem like the major element in the cantilever racking system. They can be customized and their height can be enhanced based on your storage space and forklift.  Small arms provide better support than larger arms. It means your warehouse will need more rows of cantilever racks to store your inventory. However, you must keep few things in mind while considering a cantilever racking system. First, you must use a suitable carrying solution or forklifts. It is wise to own a side loader or multi-directional forklifts before installing the cantilever racking in your storage space. It will make the stock movement easy.
Do you want to have some warehouse efficiency planner or wish to procure the cantilever racking for sale in Melbourne or design a suitable warehouse solution? The expert engineers at Ready Rack have vast experience to guide you in your warehouse management project that consists of designing, planning to installation. Do you want to have a new warehouse solution or planning to modernize your existing warehouse facility? Give them a call at 888-455-6184 today!
---
---