What is Drive-In Racking and Why Business owners prefer it more?
Storage space is an integral part of the success of many businesses. In this regard, the storage racks can maximize your storage capabilities and reduce your overall warehousing needs. If you find running out of storage space for your stocks, it is time to evaluate your storage space and find out the best storage racks for your condition. Adding drive-in pallet racking is a prevalent storage solution adaptable to suit the increased demand for space and convenience.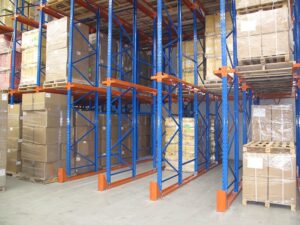 Drive-in racking is a form of high-density pallet racking that consists of ledges instead of beams. The cantilevered rails in the drive-in racking form a series of blocks where the forklifts can deposit and pick up items directly into the empty cavities. Heavy-duty bracing is used in drive-in racking to increase its strength and load-bearing capacity. Such bracings are joined symmetrically with the drive-in racking for giving extra strength to the drive-in racking. It also ensures that the pallets don't get pushed too far to the back and cause damage to the spine bracing.
Based on the warehouse space or storage requirements, the drive-in racks can be stacked up to 10-15m tall or even more based on your warehouse or shop. This means the pallets can be stored in between its blocks as high as the racking allows. The drive-in racking comes in multiple sizes. The question that may come to your mind is what type of drive-in racking is available and why you need it! The single-entry racks involve racks that have forklift access to one side only. At the same time, the double-entry drive-in rackingframes apply shelves where forklifts can access both sides of the racking structure. It is probably the best storage option for products that need cold or freezer-type storage or if you have a large stock of similar products but have limited storage space. It is suitable for fragile product loads as well.
Using drive-in racking enables you to generate many benefits for your business. Some of them are as follows:
• The pallets placed in drive-in racking can slide backward on a rail, thus creating more space in the warehouse.
• Drive-In racking allows the forklift to enter the racking from one side to load or retrieve the pallets that can store more deeply.
• Even though its initial installation cost is slightly higher than others, it is still an affordable & long-term storage alternative for many. It is an inexpensive way to stock better in your storage space.
• It will make the best use of your storage place both in length, width & height. They are ideal for areas with restricted space and allocated storage areas. Adjustable depth and height density can bring an excellent storage space to accommodate up to 75% more stock in the same storage facility.
• The rack is available in a range of widths and thicknesses. You can also use guide rails in it to optimize the safety level of storing and retrieving the pallets. It can give extra protection to minimize damage to pallets and racks in the drive-in racking.
If your warehouse gets benefited from installing a drive-in racking solution, then there's only one name you trust is ReadyRack. They are a certified company dedicated to offering superior quality storage solutions to businesses across Melbourne & other places in Australia. They help you maximize your storage capacity to serve more to your clients and increase your profits. For more information about warehouse solutions, please callReadyRack at1300 307 229 today!
Stay With Us..
YelloYello, Mate of Mine, Word of Mouth, JOE LOCAL, SavvySME, Foundonline
---
---